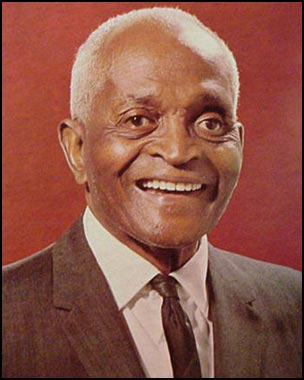 Marshall Keeble was born of slave parents on a farm near Murfreesboro, in Rutherford County, Tennessee, on December 7, 1878. When he was four years of age his parents, Robert and Mittie Keeble moved to Nashville, Tennessee. He attended the Bell view and Noles Schools of Nashville; but never went beyond seventh grade. Although limited in education, he, nevertheless, acquired a remarkable knowledge of the Bible and human nature.
He married Miss Minnie Womack, a Fisk University high school graduate. To this union five children were born. After 36 years of marriage to Keeble, Minnie Womack Keeble died on December 11, 1932. With the help of his father-in-law, S.W. Womack and other gospel preachers, he started preaching the gospel in 1897. He preached his first sermon at the Church of Christ at Jackson Street, where he remained a member until his death. In 1914, Keeble decided to "preach the gospel" on a full-time basis. Between 1915 and 1918, he traveled more than 23,000 miles, preached 1,161 sermons and baptized 457 persons.
In 1920, A.M. Burton, founder of the Life and Casualty Insurance Company, became his friend and patron. He traveled extensively at Burton's expense and was supported by the Nashville company. During his life he preached from the Golden Gate Bridge to New York harbor and around the world.
In 1934, after a formal courtship, Keeble married his second wife, Laura Catherine Johnson (1898- ) of Corinth, Mississippi. Eight year's after his marriage to Laura Johnson, he became the first president of the Nashville Christian Institute (NCI) in 1942. Opening in 1940, NCI served as a night school for adults. The same year that Keeble became president, NCI opened a fully accredited elementary and high school. He served the school as president until 1958 when he became President Emeritus. NCI closed on June 2, 1967.
During his career, Marshall Keeble received many honors. He was the first African American to become the subject of academic studies among leading preachers of the churches of Christ. In 1954, he was honored as the "Man of the Hour", on WLAC sponsored by the Business and Professional Women's Club. Two years later, he was presented a citation by President Hugh H. Tiner of George Pepperdine College. In 1960, he was made an honorary chief of the Nigerian tribe; in 1964, he was featured in the "Magazine Section" of the Nashville Tennessean. A year later, Harding University in Arkansas awarded him an honorary doctor of Law degree; Governor Frank G. Clement appointed him the first African-American "Colonel Aide-de-Camp", an honorary colonel on the Governor's staff, and Mayor Beverly Briley presented Keeble (on his birthday) with a bronze plaque.
Brother Keeble held gospel meetings anywhere he could find space large enough to erect his tent. There have been thousands, white and black, who have heard his sermons all over the country. When he left a place there would be hundreds that obeyed the Word of God by being baptized into Christ. It has been estimated that in his preaching career, he baptized at least forty thousand precious souls into the body of Christ, making him responsible for populating heaven with more souls of the saints than anyone else this side of the first century.
Marshall Keeble preached his last sermon on April 17, 1968. He passed from this life April 20, 1968 and is buried in the Greenwood Cemetery, Nashville, Tennessee, located at 1428 Elm Hill Pike. When entering the cemetery immediately pull over to the right hand side. The section to the right is the Garden of Hope. Walking into the section from the entrance you will see 9 rows of graves. Keeble is in the fifth (middle) row about midway from the entrance of the cemetery and the far end, in Lot 77 – B1.
Sister Laura Keeble passed away March 5, 2007 at the age of 108 in Nashville, Tennessee. Click here to view the program from her services.